Take the Life's Driver's License for personal leadership
If you are committed to evolving yourself as a human being, Life's Driver's License can provide you with structured training, tools and inspiration to guide every stage of your journey. Training in personal leadership skills to make you a really good driver in life. The training, which you get to work with the best of CBT (cognitive behavioral therapy), nlp and mental training, suitable when you want to get better in yourself and create your own best future.
For who
This course is for everyone who is interested in his or her own personal development, interested in learning more about himself or herself, gaining greater insight. As a participant you need to have an open mind, an interest in your own development, and an understanding of the fact that if you want your world to function and be the way you want it, you will have to practice. Training, and more training is the route to success. Besides training with the accompanying CD you will need to actually do the exercises.
Purpose and goal
The goal of this course is for you to discover your own power and ability, learn to take command over your own life in order to achieve your dreams and goals, develop and learn more about yourself. Your personal goals with the course might be for example: learning to deal with negative stress, getting better sleep, becoming mentally stronger, accomplishing more, becoming more creative, learning to see possibilities, reaching greater access to your inner resources, feeling better, reaching specific goals, learning to say no, or finding more joy in life.
The advantages to this course are many. Count on personal development, you will learn how to use your resources better, feel more energy and joy in everyday life, feel and function better than ever before. You can decide how your future will look, and actively work toward that goal.
When and how
The course is now available and you can start whenever you wish, and move ahead at your own pace. You will need to use about 30 minutes a day for your own training. The license is good for nine months. So from your starting date you have nine months to go through all the steps in the course program.
Special offer
The course, including book and CD, costs 396$. You have access to the program for nine months after registration.
Try it before you buy it
You have the possibility to sample the program and see if it suits you before deciding to enroll. If no payment has been received within 10 days after date of registration, you will be deactivated from the course.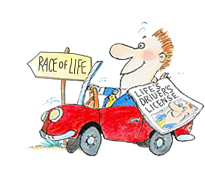 Get more detailed information about the course here
Tell a friend
If you know someone who may be interested in this course we would appreciate if you would pass on information about this site to that person.
---
Thought and told
"It has been a good roadmap for moving forward and finding my possibilities in life. Nothing is impossible, and everything turns out fine when I believe in my own ability. One of the happiest periods of my lifetime! I give this program Life's Driver's License an A+!"

"This course - Life's Driver's License - should be mandatory for everybody! It contains some of the most important information needed to lead a good life! The only word I can think of to describe the feeling I get when I think of this course is.....YEEHAW!"

"Life's Driver's License has helped me to become more creative and better at coming up with ideas. I think in slightly different ways and have come a long way in my own development."

"I am so happy and grateful for the tools you have given me through Life's Driver's License! I have now been given an opportunity to live in a way I never did before! Absolutely fantastic!"

"The program is well set up and thoroughly thought through. The questions and picture sequences make you reflect over your life, attitudes, self-image and more, in a positive way. I warmly recommend this program to everyone who wants to do more with their lives."

"I have become more creative and better at coming up with ideas. I think in slightly different ways, and have come a long way in my own development. I have learned new things, felt great inspiration and laughed a lot along the way."

"I have learned to relax, and feel so good! I have learned to think positively. I have learned to appreciate little things I took for granted. I have learned to take responsibility for myself, I have learned to make use of the moments we have."

"Absolutely awsome! But, at the same time as it is delightful, it is also a little scary….all these changes that I probably have to make in my life, if I want to live fully."
---